Assistant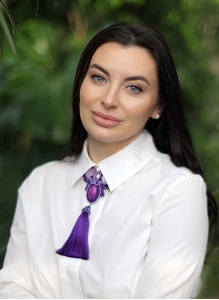 In 2010, Alina Volodymyrivna graduated with honors from Kharkiv National University of Radio Electronics with a degree in Computer Engineering and Management and qualified as a research engineer in computer systems and networks. She worked in a foreign IT company. She also worked as a computer systems engineer at a domestic pharmaceutical company. He speaks English (has B2 First Certificate in English) and French.
In 2017 she graduated with honors from the National University of Pharmacy with a degree in Pharmaceutical Biotechnology and received a master's degree in pharmaceutical biotechnology.
Since 2017 he has been studying for a postgraduate degree and working as an assistant at the Department of Biotechnology of NUPh. Acts as the secretary of the department responsible for the site of the department and the trade union of the department.
The main directions of scientific research:
Development of the composition and technology of complex therapeutic and prophylactic cosmetics with probiotics for the treatment of dermatological diseases.
Membership in professional associations:
Federation of European Microbiological Societies
The European Synthetic Biology Society (EUSynBioS)
member of the European Federation of Biotechnology
member of the Society of Microbiologists of Ukraine named after SV Vinogradsky.

Disciplines taught by the assistant:
«Pharmaceutical biotechnology»
"General microbiology and virology"